Local and Regional Food Systems at Cornell recently launched a new, dynamic LRFS website to better demonstrate, strengthen, and build the network around local & regional food systems in New York State.  Learn about the network of people, projects, resources, and locations of their work, connect with others who are working on food system issues; participate in events or online forums; share info on your Cornell or CCE based programs in LRFS; and explore CU/CCE expertise across various areas of local food systems work. In essence, LRFS is sharing your stories to better leverage your work, to help you stay connected, and to strengthen their impact in local & regional food systems. Nominate someone, including yourself, for a spotlight interview. Or, upload your own here!
Do you hire, or are you considering hiring, migrant or foreign-born labor? Do you want to improve your skills in supervising employees who come from different cultures, especially workers from Mexico and Central America? If yes, this workshop is for you!
On April 12 from 11:30am-5:00pm, learn how to build better relations between farmers and workers and how to establish meaningful communication across cultures and language barriers. Mary Jo Dudley, Director of the Cornell Farmworker Program, will discuss how to create positive workplaces and reduce miscommunication and culturally-based misunderstandings. Other speakers will address access to health services, opportunities for English language learning, and tips for worker and employer emergency preparedness.
Cost: $20
Location: Jordan Hall, NYS Agricultural Experiment Station, 630 W. North St., Geneva, NY, 14456
Register Here.
If you are unable to register online, contact Abby Henderson at (518) 746-2553 or aef225@cornell.edu.
Read more about the workshop here.
Do you manage employees on a farm? Do you need help recruiting and retaining good staff? Please take this brief survey and share important feedback that will help shape our new Labor Ready Farmer project. Growing a great workforce can result in long-term benefits for your business. Share your management challenges and successes to help us better understand how to develop effective program tools, such as online courses and videos, plain language guides, and workshops. Participants can enter to win either a $100 gift certificate to Tractor Supply or a free Cornell Small Farms online agricultural course of their choice in the coming year. One winner will be selected for every 50 participants. Learn about existing efforts and events, including the Improving Ag Labor Management Workshop series, at the Labor Ready Farmer webpage. For more information, contact Kat McCarthy (kmm485@cornell.edu, 607-255-9911) or Anu Rangarajan (ar47@cornell.edu).
February 17th 9:00AM – 4:00PM
Oxley Equestrian Center, Cornell University, Ithaca NY
In this workshop we aim to give participants a full day of experiencing what is like to work with draft animals.  We will focus on what keeps us safe, what we gain from work with drafts, and how we can make them fit into profitable farms and businesses. We want folks to get their hands on the animals, the harnesses, and the lines and see what it is like. Depending on interest and demand we are considering future programs on using draft animals in Agriculture and logging.
What You Will Learn:
9:00 AM Introduction
What is a Draft horse? Why do the they work for us?
Learn safety principles for working with Draft Animals.
10:00AM Two Groups
First group: How are they harnessed?
Second group: How are they driven?
11:00AM First Drive
12:00PM Lunch (Bring your own bag lunch)
1:00PM Two Groups
First group: Driving with a cart or wagon.
Second group: Ground driving with a log.
3:00PM  How to Continue Training Your Team
Discussion on round pens, lunge ropes and working to train.
Opportunities for fun, therapeutic, and productive work with draft animals.
4:00PM END
With contributions and support from the Cornell Small Farms Program, Equicenter of Rochester, Draft Animal Power Network, and Groundswell Center for Local Food and Farming.
Cost: $40 for Veterans, Immigrants and Refugees
$80 for the general public
Bring your own bag lunch
Veterans with questions or needs please call, text or email:
Nathan Bush, USAF Veteran, Farm Manager, EquiCenter Inc.
585-760-4283 nbush@equicenterny.org
*Veterans in New York State may be eligible for a reimbursement scholarship to attend this program. To learn more about this opportunity, and determine if you are eligible for a scholarship to a specific event, please contact Kat McCarthy at the Cornell Small Farms Program by email kmm485@cornell.edu or at 607-255-9911.*
General questions or for interpretation needs, please call or email:
Kate Cardona, Outreach & Equity Coordinator, Groundswell
607-319-5095 kate@groundswellcenter.org
Our Small Farms Bi-Monthly Update brings you small farm announcements, events, job and internship opportunities, grant and loan opportunities, other small farm resources. It is intended for farmers and agricultural service providers in New York and the Northeast. If have an item to be included in the update, please contact Violet Stone at vws7@cornell.edu. Sign up here!
2017 Small Farm Updates
Looking for a grant opportunity or resource that appeared a few issues back? To view previous 2017 issues, click on the links below.
Ring in the new year with our exciting and educational online courses! Click the links for further information, including registration.
Have an idea for a farm enterprise but not sure if it's feasible? This course will help you explore the potential markets and profitability of your ideas, picking up where BF 101: Square One left off. (You do not have to take BF 101 before taking BF 102) 
BF 121: Veggie Farming 2 – From Season-Long Care to Harvest
This course continues where BF 120 ends and covers vegetable production from transplanting to harvest, including information on in-season fertility, integrated pest management, weed control options, harvesting strategies, and tips for marketing your products. Be prepared to create an in-season fertility and pest/weed control plan as part of this course.
Weekly homework will focus on preparing you to make good decisions in the coming growing season. (Note: You do NOT need to take BF 120 to enroll in this course) 
BF 151:Woodland Shiitake Mushroom Cultivation
Mushrooms are an emerging niche crop with many benefits, including improving farmer stewardship of forested lands and the ability to offer a unique and highly desired product. With a bit of practice, mushrooms can be easily grown in the woods on many products that can be the surplus of healthy forest management.
This course trains new and experienced farmers in the background, techniques, and economics of farm scale woodland mushroom production. Students will learn the basic biology of mushrooms, cultivation techniques for shiitake, oyster, lions mane, and stropharia mushrooms, proper conditions for fruiting, management needs, and harvesting and marketing mushrooms.
BF 203: Holistic Financial Planning
If you've been struggling to make your farm operation profitable without driving yourself into the ground, this financial planning course is for you. Ultimately, it will help you with the delicate balancing act that all farmers must succeed in:  balancing healthy profits with healthy land and a healthy farm family and personal life.
You will learn how to make financial decisions toward farm & family values and goals, and how to build profit into your plans up front, rather than hoping there is something left once expenses are subtracted from income. If you have been struggling with the financial statements in your business plan, this is a great course to help you focus in on these and get clear on your numbers.
Tree fruit are an important component of the agricultural and homeowner landscape. Planting and management of apple and other tree fruit orchards is a rewarding hobby and business, but important considerations must be met to ensure success.
This course trains beginning tree fruit growers in fundamental concepts in orchard planning and management. Content will include site selection and management, rootstock and cultivar selection, orchard systems, pest management, nutrient management, and harvest considerations for commercial orchards tailored to the northeast U.S.
BF 232: Commercial Sheep Production
Have sheep or thinking about getting a flock? Producers of all experience levels will find something for them in this lively, wide-ranging course. There is no one right way to raise sheep – just a palette of options for you to choose from, to suit your farming objectives and lifestyle.
Taught by experienced sheep producers and Cornell Cooperative Extension educators, this course will cover many of these different options, and strongly encourages active student participation.
We are excited to announce that we will be hosting several program workshops at the 2018 Empire State Producers Expo, January 16-18, in Syracuse, NY. We hope to see you there!
Emerging Markets: Profitable Log-Grown Shiitake Mushrooms
 The 
Cornell Small Farms Program
 will present a workshop on how woodland-cultivated shiitake mushrooms have come to be a leader in profitable agroforestry crops.  This workshop is led by Don Gasiewicz of CCE Wyoming along with Mariann Garrison-Johnston of 
Wintonbury Farm
and Ron Delaney of 
Tiny House Farm
. Attend this workshop to learn about the potential for profitable mushroom cultivation, with a focus on outdoor wood-grown methods. Cornell has been doing research and extension work in this crop for over 10 years. Participants will hear from extension educators and two active growers who have been participating in a business development network to get their enterprises off the ground. Expect to learn the basic methods and requirements for growing, along with information on pricing, markets, and regulations around selling mushrooms.
2018 Empire State Producers Expo: 

January 16, 2018, 2:00-3:15pm
Demystifying Equipment Purchases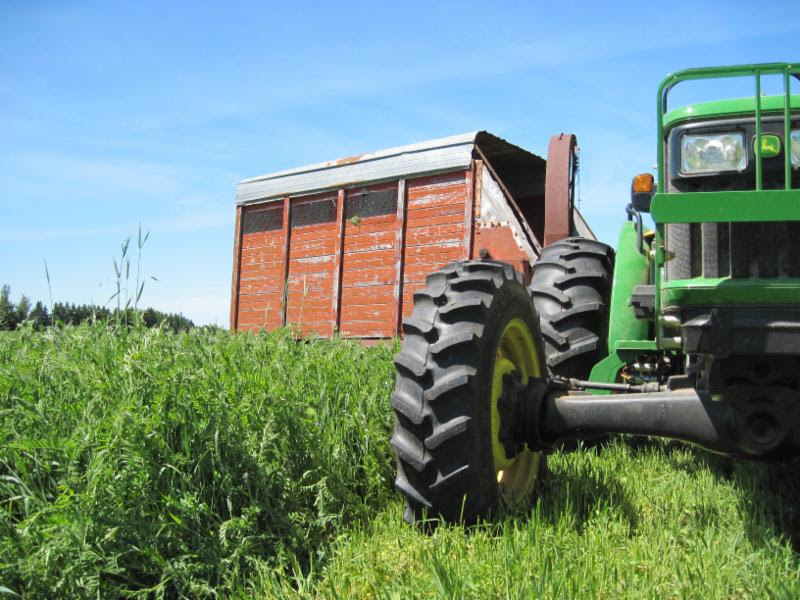 This two-part session at the Expo will review factors for making equipment purchases and will be paired with a tailored tour of trade show to address participant's questions. The session will provide an overview to help participants evaluate the many factors to consider when buying equipment, including the trade-offs of purchasing new or used, maintenance needs, and potential challenges. During the second section of the track, presenter Shane LaBrake for a tour of the trade show floor to review key considerations for picking a tractor and scaling-up equipment, tailored to the interests of session participants. This Expo session was organized by Anu Rangarajan and Kat McCarthy of the 
Cornell Small Farms Program
.
2018 Empire State Producers Expo: 
January 18, 2018, 9:00-10:15am

 (Part A) & 

10:45am-12:00pm

 (Part B)
Getting the Most from Your Labor
During this session, Elizabeth Higgins, of the 
Cornell Cooperative Extension Eastern NY Commercial Hort Program
 will share techniques for develop clear job descriptions, including information about hiring staff, and offering just in time feedback and
performance appraisal to both correct problems and motivate employees. Presenter Kat McCarthy, 
Cornell Small Farms Program
, will next explain how to develop components of an employee handbook, and how these materials can help with employee recruitment and retention. The session will be concluded with a presentation by Mary Jo Dudley of the
Cornell Farmworker Program
, who will describe how to establish and run effective training programs. Participants will leave this session with an outline of text/concepts they could include in the development of their own employee handbook, as well as a check-list for developing job descriptions and training programs on their own farm.
2018 Empire State Producers Expo: 

January 18, 2018, 2:00-4:00pm
Novel Cover Cropping and Strip Tillage Practices for Vegetables
Attend this workshop to learn how you can integrate cover cropping and reduced tillage practices while overcoming the residue and weed management challenges.
Hear Janaki Fisher-Merritt from the 
Food Farm
(Wrenshall, MN) discuss how they have worked to incorporate cover crops in a diverse rotation with cover crop fallows, interseeding, and cut-and-carry mulching. Ryan Maher, from the 
Cornell Small Farms Program
, will share research results from the latest trials on strip tillage in winter hardy cover crops and adaptations for organic cropping systems. Come to think through the approaches and tools that will work to reduce inputs and improve productivity on your farm.
2018 Empire State Producers Expo: 

January 18, 2018, 9:00-10:15am
NESARE Farmer Grants are for commercial producers who have an innovative idea they want to test using a field trial, on-farm demonstration, marketing initiative, or other technique. A technical advisor–often an extension agent, crop consultant, or other service professional–must also be involved. Projects should seek results other farmers can use, and all projects must have the potential to add to our knowledge about effective sustainable practices.  To apply, you must be a commercial farmer in the Northeast SARE region. You need not be farming full time, but your operation should have an established crop or animal product that you sell on a regular basis. Browse the NESARE Farmer Grants website here for more information on the application process, previous farmer grants, and more. Applications are due December 5th, 2017.
Join one of our upcoming online farming courses: Veggie Farming, Berry Production, Introduction to Maple Syrup, and more!
The Cornell Small Farms Program offers over twenty courses to help farmers improve their technical and business skills. Students connect with other farmers, work on farm plans, and gain practical tips without leaving their home. Course content can be accessed anywhere with a high-speed internet connection.
Most courses are six weeks long. Each week features an evening webinar and follow-up readings, videos, and activities. Students and their instructors connect through online forums and live chat. If you aren't able to attend the webinars in real-time, they are always recorded for later viewing.
Classes starting the Week of November 6 include:

BF 120: Veggie Farming 1 – From Planning to Planting
This course helps new and aspiring vegetable producers answer basic questions about site selection, crop rotation, seeding and transplanting, and financial aspects of veggie production. Topics including variety selection, pre-plant preparation, and cultivation will be covered.
BF130: Poultry Production (BF 130)
Many new farmers get started with poultry, because it's a relatively low-investment enterprise with a fairly quick turnaround time from investment to revenue. The margins can be slim though, and farmers need to develop the necessary skillset in order to produce a product that is both safe and profitable. This course will help you get started with all the basic information to build a successful poultry enterprise.
If you're exploring the idea of adding berries and bramble fruits to your farm, this course will help you consider all the aspects of this decision, from varieties and site selection all the way through profit potential and marketing.
BF 152: Introduction to Maple Syrup Production

Maple syrup production is rapidly growing around the Northeast and offers a sound financial opportunity to utilize woodlots. This course explores the range possibilities of maple sugaring on your land – be it for supplemental income or for your livelihood. Also discussed are "alternative" trees for production, including Birch and Black Walnut.
Course tuition entitles two people from a farm to attend. Discounts for early sign up and multiple course sign ups are available.
Check out the listings at http://smallfarms.cornell.edu/online-courses/ for more information on a particular course and the instructors.
Questions?
Contact Erica Frenay, ejf5@cornell.edu or Steve Gabriel, sfg53@cornell.edu
or call 607 – 255 – 2142
ABOUT
The Small Farms Program helps farmers get expert assistance to facilitate all phases of small farm business development, from initial growth to optimization to maturity.

We are a joint effort of the College of Agriculture and Life Sciences and Cornell Cooperative Extension.
Consider registering for this informative online course starting November 2nd!
Most people are drawn to the production side of small-scale agriculture and then are "stuck" with the marketing. This course introduces effective techniques to reduce the amount of time and money that marketing activities draw from the farm while guiding management towards income and lifestyle goals.
Target Audience
New farmers with at least 1 season of farm management experience, as well as more seasonedfarmers who have explored the basics of marketing and are ready to develop a formal marketing strategy.  
Course Objectives
Develop components of a marketing plan & marketing materials for your farm.
Develop a focused marketing strategy to guide decision making and resource investment.
Learn to critically analyze markets and new opportunities to select the best performing channels.
Learn recordkeeping and basic analytical skills to improve marketing labor efficiency.
Optimize marketing labor and marketing channels for your marketing.
Webinars
The bulk of the course happens on your own time, with discussions, readings, and assignments in MOODLE, our virtual classroom. To add to the experience, webinars will be woven into the online interface of the course to allow you to meet on a weekly basis to learn from outside presenters, ask questions, and collaborate with other participants and the instructor to address your farm issues in real time. If you miss one, they are always recorded and posted for later viewing. Access details will be posted in MOODLE once you have registered and logged in. 
Instructors
Matt LeRoux is an Ag Marketing Specialist with Cornell Cooperative Extension of Tompkins County, NY.
Erica Frenay is the Online Course Manager for the Cornell Small Farms Program and also owns and operates Shelterbelt Farm.
Dates
November 6 – December 11, 2017 with webinars each Monday evening from 6:30-8:00pm Eastern time. Webinars will be recorded for later viewing.  
Click here for the the course outline and cost and registration information.